Northern Film and Drama (NFD) Professional Film & TV Actor Training
Acting Classes Leeds, Castleford, Selby, York, Doncaster and the Yorkshire area,
"NEW" Childrens Film and TV Acting Course please click HERE
We believe 100% in "training while creating" and it is the core philosophy upon which all our training is based. Creating productions on set and camera right from day one for all our students to be part of!

Tel +44 (0)1977 681949
Childrens Film & TV Acting taster session Details are HERE

Adult Film & TV Acting course starts JANUARY 11th 2017 book now. Rolling 12 week course cycle every Wednesday @ 18.30hrs" so can be started after the initial start date. Full details HERE
At NFD we pride ourselves on an integrity not found at some organisations, we certainly don't use commercial logos to tempt you to join our classes then encourage you to work as an extra for which you need no training.

If you want to become a real actor it takes time, dedication, hard work and experience. We believe 100% in "training while creating" and it is the core philosophy upon which all our training is based - Creating productions on set and camera right from day one for all our students to be part of! With over two decades of professional experience in Film and TV, training, production and agency work we are well proven at what we do. Over 78% of our students have the required professional credits to be members of Spotlight where the most sought after acting opportunities are cast. At NFD we won't try and entice you with anything other than our outstanding credentials. See some of the people we have trained HERE
Below are video clips of our film and TV work which is the key part of our very unique on set training and means that all our actors get to be part of the internationally award winning films and TV programmes we make. This provides second to none acting experience, top class showreel material, Spotlight professional acting credits (feature films), Imdb professional acting credits, and frequently goes on to provide other worth while parts in a wide range of film and TV projects. Actors who have appeared in our various film and TV projects have gone on for example to take main parts in "Coronation Street", "Emmerdale Farm" "Skins" "My Parents are Aliens" "The Chase" "Vera" (TV) and "Far from the Madding Crowd" "Hanna" "Tamara Drewe" "Mrs Radcliffe's Revolution" "The Lobster" (Feature Films) to name just a few of so many.
Please scroll down to see various examples. This is exactly what we are all about!

"NFD NEWS"
ON SET TRAINING

To be successful in Film and TV Acting you need the real on set location experience with a professional experienced crew and professional industry filming equipment which is almost impossible to get unless you actually get a part. So very much a catch 22 situation for aspiring actors. We solve that very difficult problem by consistently delivering that real on set location Film and TV experience as the core part of our training. We do this by regularly producing award winning films with a professional crew and equipment for students to develop those much needed key skills.

NFD on location 2015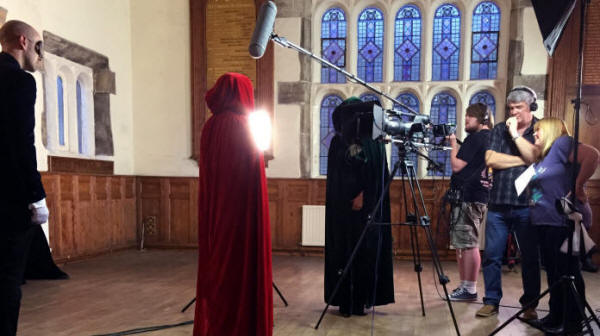 EQUIPMENT

Our equipment is professional broadcast standard cameras recording to disk recorders at very high bit rates exactly the same as any commercial film so no small domestic and inferior cameras its the real thing. Because we are also a film and TV production company based in Leeds which makes us unique among acting schools for Film and TV, it means our actors always benefit from having the best equipment and technical help on hand all the time. We also uniquely shoot in 2D & 3D to add an extra dimension to the films we produce which gives the added bonus that it gets our footage seen by far more people around the world than 2D alone.

NFD on location 2015
OUR AIM

Our aim is to get students on camera and being a Film and TV actor from day one! We have our own purpose built STUDIO with full GREEN screen facilities all sides top and bottom painted flat walls so we can do very advanced seamless integration. 3D and other up to date film and TV technical facilities are available which means all out students receive training in those areas as is new Virtual Reality. Because of our professional facilities and extensive long term Film and TV production experience, we are able to put actors in a real acting environment straight away, something very few others can do.

Green screen process used on Sisterhood of the Red Garter. Note the smooth green background as its painted on a wall so seamless transition unlike material that has creases and folds which often carry through to the finished footage spoiling what might otherwise have been really good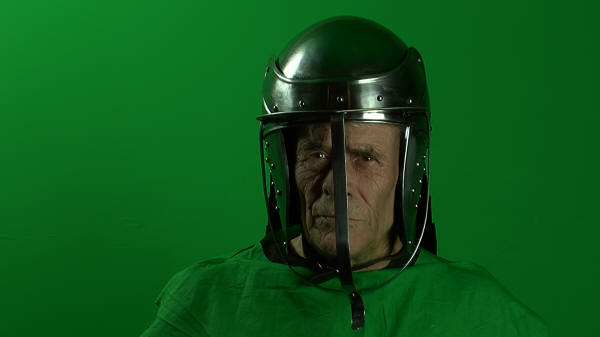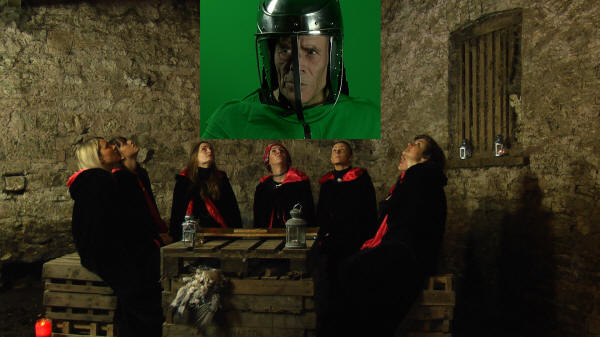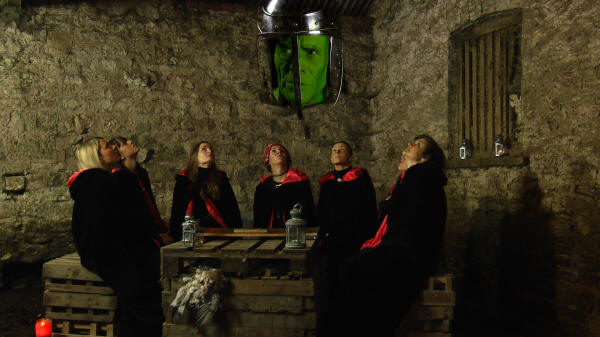 PROFESSIONAL STUDIO

Classes are held in our own purpose built film and TV studio and for some Childrens classes in bespoke drama classrooms where we can train students in comfort, not large open spaces or community centres etc. That way you learn faster and better than anywhere else and we can maintain for you a personal friendly atmosphere that promotes remarkable progress from all our actors. To maintain the small friendly classes numbers are strictly limited.
Still from battle scene SRG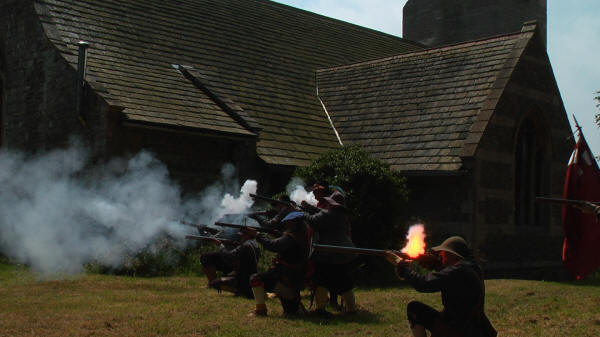 PRODUCTION COMPANY

We are unique in genuinely having our own Production company that has successfully had work from as early as 1995 shown amongst others on itv, Meridian, CH4, BBC not to mention many overseas TV stations around the world. Our customers include the likes of Citizens Advice and Yorkshire forward as well as many councils and local authorities across the UK.

We also have many other blue chip corporate customers quite a few of whom allow us to uniquely pay money back to our actors for appearing in their various projects.

This means we always have instant access to both equipment and technical professionals to make our actors look their very best.

Still from Crooked Billet currently in production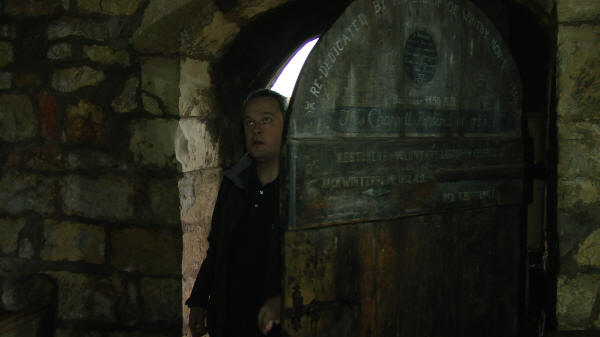 AGENCY/REPRESENTATION

Those who already have agents and those who don't are most welcome. For students with potential we can help with the latter.

There are many web casting organisations all claiming to make you a "STAR" and all less for spotlight deal in low quality work requiring little to no talent. Extra work, short/student films, adverts etc are all low grade work and are more likely to harm your cv than help it if you really want to get worth while parts. For children its not as important and some extra work can be beneficial.

We work hard with our students as a spotlight registered agent to fulfil the stringent criteria required to be accepted by them. This is in our opinion the only worth while online casting organisation given all the substantial/main parts from Game of Thrones to the main Hollywood Films etc all appear here and generally no where else. If you aren't good enough to be on spotlight you can't apply simple as that so we work hard to get you there.

Lastly we really love what we do so you can always be assured of the very best possible experience no matter your level of ability.
To learn more about our Acting Classes please contact us +44 (0)1977 681949 or

Email

NFD © 2017 "At NFD we pride ourselves on our integrity"