Children's Acting Leeds "South Milford" STUDIO (6 to 12 years) 13 years and 16 years plus please look at our teenage page.
Tel +44 (0)1977 68194
WHEN?
Mondays:
16.30hrs – 17.00hrs – Age 4 to 8 years (this includes beneficial training on set )
17.00hrs – 17.30hrs – Age 4 to 8 years (this includes beneficial on-set training)
17.30hrs – 18.00hrs – Age 11 to 13 years (this includes beneficial on-set training)
Wednesday:
4.30pm-5.00pm Age 6 to 11 years. (includes beneficial training on set)
5.00pm to 5.30pm mixed age group. (includes beneficial training on set)
WHERE?
Children's acting Film and TV Acting Classes are held in LEEDS "South Milford" LS25 5AR – Directions are here 

CHILDRENS ACTING LEEDS COVERS
Half hour intensive workshop using STUDIO film and TV facilities with a maximum of five children. Film and TV technique. Concentrate on filming one short film a year with all students participating. Students learn script, acting in front of camera, continuity and audition technique, to suit each age group.
YOUNGER STUDENTS FILM 2017 "CONKERS"
Coming soon – to be filmed in Summer 2018 with our younger children "CONKERS". Parts are limited so if you would like To be involved in this brilliantly written short film please contact us on 01977 681949. This will be filmed on location during the Summer, most likely over two weekends.
Synopsis
When James breaks his Granddad's last conker he vows to replace it. Conkers are banned at school. The Headmistress hates them so much she orders that every conker be destroyed. James's mate Robert tells him where the best conkers can be found but they are overheard by the headmistress's spies. The boys and their friends chase off the council workers collecting the conkers but are caught red handed by the headmistress. James's Grandad comes to the rescue and challenges the headmistress to a game. If Grandad wins they will escape punishment.
Main Characters
THE CHILDREN
James – or Jimmy as his Grandfather calls him is determined, focused & single minded but can be a little naive & not quite as bright as his peers.
Robert – Bright, clever & a bit cheeky. Although he can be kind & thoughtful at times he can also be a bit of a chancer, looking for how he can profit from any situation.
Sybella & Priscilla Sneak – (Ideally they would be played by identical twins & look like Wednesday Adams) They think they have no need of friends, they have each other and are teacher's pets. They think alike & are in the habit of finishing off each others sentences.
Lots of other Childrens parts Ranging from quite a few lines to just a few words.
THE ADULTS
Grandad – A kindly, gentle man, with an impish sense of humour, entering his second childhood but fiercely protective of his little Jimmy. He delights in sharing & teaching Jimmy about the childhood pastimes he enjoyed as a youngster.
Mildred Sternly – Headmistress & a stickler for rules & regulations. She rules by fear & is liable to tantrums when challenged. Her hatred of conkers is due to her being accused of cheating at a conker tournament when she was a girl.
Council Worker #1 – Childish, lazy, oafish & sly he is not afraid to deal out a bit of physical violence but like most bullies he crumbles when challenged.
Council Worker #2 – Childlike, easily led & manipulated despite his physical size. A sandwich short of a picnic.
CHILDRENS ACTING LEEDS – Filmed 2016 with our younger children "Cowboys and Indians"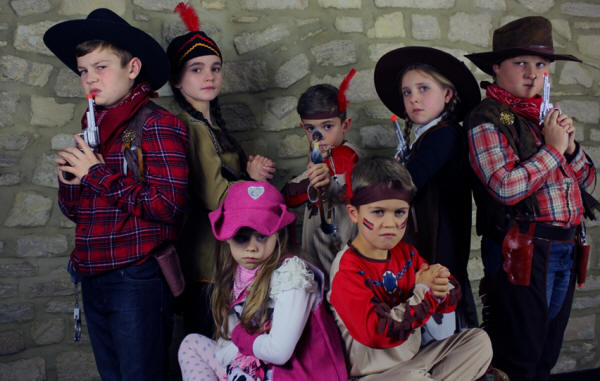 CHILDRENS ACTING LEEDS YOUNGER STUDENTS FILM 2015 "BEYOND THE SPITFIRE"
Filmed 2015 with out younger children "Beyond the Spitfire"

If you were 12 how would you feel if you were transported to a world without the internet, TV or mobile phone? Could you cope? That's what happens to young Eric when he is magically transported back to war torn Britain in 1941 amongst a group of evacuees. I could tell you more but walls have ears and careless talk costs lives. Find out for yourself by watching "Beyond the Spitfire"
DETAILS –
Children's acting Leeds. We have various methods of payment available from per lesson to monthly direct debit and other options depending on the class. FREE TWO WEEK TASTER SESSION available please ring for further details.
Imogen Young Scholarship. From October for 12 months covering all fees is awarded to a gifted and talented student by audition only. Please enquire.
Licensing for CHILDREN help is available HERE
| | |
| --- | --- |
| | "At NFD we pride ourselves on our integrity" |
---
Contact form